The Woof Gang's Press Releases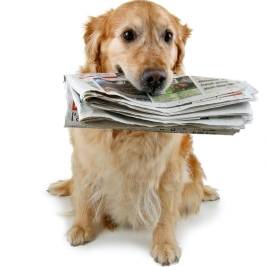 Click the {BACK} button on your browser
to return to the Press Release Main Page.
The Woof Gang's Pet Sitting News
January 1, 2015 |
- 'The Woof Gang' is HIRING FULL-TIME PET SITTERS and DOG WALKERS! If you or someone you know is / are: responsible, kind, organized, trustworthy, and EXCELLENT with animals, we want to speak with you! Please click on the 'CONTACT' tab above and send us a message!
January 1, 2014 |
- Happy New Year! "Princess Eva" came home with us last week, and she and Wally instantly bonded! We found Eva up in a tree in front of one of our client's homes. She's a little feral monster sometimes, but, she LOVES to cuddle and be petted. Welcome home, Eva! =)
November 28, 2013 |
- Happy Thanksgiving! Mister Wally Wechsel is the newest addition to The Woof Gang office staff. He followed us around in a client parking lot, begging for turkey. =) Wally appears to be very intelligent, is very sweet ... and is also very handsome! =)
April 30, 2012 |
- 'The Woof Gang' is growing ... again! The Incredible Jennifer G. is smart, beautiful and a great addition to the "The Woof Gang" team! Welcome, Jennifer!
January 1, 2012 |
- 'The Woof Gang' celebrates the New Year by hiring a new employee, Mister Mark G.! With a wealth of animal care experience under his belt, we're lucky to have him with us!
June 1, 2011 |
- 'The Woof Gang' has chosen
The Fremont Dog Training Club
as their preferred dog training partner.
April 30, 2011 |
- 'The Woof Gang' is now offering 24 x 7 Live Web Cam Views of our clients' homes and pet(s)! VERY COOL!
September 16, 2010 |
- Wolfgang hits a home run on the
PSI Accreditation Exam
with a score of 96%! Congratulations, Wolfgang! Outstanding job!
March 26, 2010 |
- 'The Woof Gang' goes solo! After 5 years of in-depth experience as a contract pet-sitter and dog-walker, Wolfgang is an official business owner. Yay!
January 3, 2010 |
- Wolfgang and his wife, Coree, celebrate the New Year by adopting a rescue cat. Welcome home, Leela!
August 12, 2005 |
- Wolfgang Wechsel begins his career as a full-time dog walker and pet sitter. Look out, Dr. Doolittle; the animals LOVE him!